Main content starts here, tab to start navigating
Menus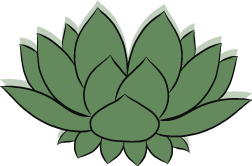 Plates
Parker House Rolls 6

Four rolls, sweet Michigan butter

Chicken Liver Mousse 9

Pickled radish, crispy chicken skin, seeded crackers

Smoked Trout 14 GF

Crispy potato cake, creme fraiche, smoked trout roe

Hand Cut Frites 6 GF

Garlic Aioli

Braised Shortrib Tostada 12 GF

cabbage, crema, cilantro, house made peach salsa
Greens
Greens and Grains 9 V

Arugula, quinoa, wheat berries, barley, lentil sprouts, sherry vinaigrette

Shaved Summer Veg & Baby Romaine 12

Mustard croutons, creamy caesar style dressing

Baby Beets 11 V, GF

Plums, ginger, pea tendrils, yuzu vinaigrette

Panzenella 10 V

Heirloom tomato, watermelon, mustard croutons, sherry vinaigrette
Large Plates
Slagel Beef Burger 14

blue cheese, spicy serrano mayo, green leaf lettuce & frites

Catalpa Grove Lamb Burger 15

cucumber, red onion, arugula, tzatziki & frites

Sweet "Fresh off the Cob" Corn Polenta 16

Maitake & clamshell mushrooms, tomato vinaigrette

Okinawa Sweet Potatoes 18 GF

Cultured cream, turnips, micro red mustard greens

Rushing Waters Trout Chilaquiles 28 GF

whole trout, tortillas, tomatillo, pepitas, salsa verde

Sliced Slagel Farm Steak 24 GF

warm lemon potato salad

Braised Pork Shank 32 GF

butterscotch miso glaze, sweet peas, potato

Sustainable Loch Duart Salmon 26 GF

braised leeks, cultured cream, amaranth
Boards
Charcuterie Board 16

Quail egg, cornichon, preserved vegetable, seeded crackers

Cheese Board 18

Selection of three cheeses, spiced nuts, house jam, honey comb, and seeded crackers

Chef's Choice Relish Tray 22

Charcuterie, chicken liver mousse, cheese and preserved vegetable, house made pita
Kids
Grilled Cheese & Frites 6

Burger & Frites 7
Sweets
Strawberry Rhubarb Tartlet 8

Sweetened cream

Chocolate Mousse 9

Fresh summer berries, chocolate crumble
The Cocktail Collection
The Boozy Floozy 11

Our fantastic house made soda with a twist - or in this case a shot. Add your favorite spirit or let us recommend one for you!

The 2nd Chakra 10

Bourbon, rooibos syrup, orange bitters

X Paradisi 12

Vodka, grapefruit, lemon juice, lime juice, soda.

Whatamelon 12

Ancho infused tequila, fresh watermelon juice, jalapeño syrup, fresh lime

Babbling Brooke 15

Gin, elderflower, fresh lime.

Vesper Spritz 13

Vodka, gin, Lillet, fresh lemon juice.

Forbidden Fizz 11

Rum, grapefruit, mint, lime.
For The Virgin
Found Fruit Soda 6

flavor of the day

Filberts All Natural Sodas 3

Baby G&T 7

grapefruit & housemade tonic

Blackened Lemonade 7

fresh lemon with activated charcoal

Ginger Beer 3

made in house with real ginger
Local Drafts
Hopewell 7

great news saison, 5.6% 10oz

Sketchbook 6

pinky sweater pils, 5.5% 10oz

Begyle 8

imperial pajamas stout, 9.8% 8oz

Maplewood 7

son of juice ipa, 6.3% 10oz

Revoluntion Cross of Gold 6

golden ale 4.8%, 10oz
Bottles & Cans
Smylie Brothers 8

farmhouse ale, IL 5.5% 12oz

Finch 6

plumage ipa, IL 6.5%, 12oz

2 Fools 8

plumage ipa, IL 6.9% 12oz

Alter 5

swedda wed oatmeal stout, IL 7.5% 12oz

Brickstone 6

hop skip double ipa, IL 7.75% 16oz

Heavenly Body 7

golden wheat, MO, non alcoholic 12oz
Whiskey
Stranahan's 18

diamond peak

Balcones 17

texas single malt

F.E.W. 19

single malt

Jack Daniels 11

single barrel

Redbreast 16

12 year cask strength

Brenne 15

french single malt
Bourbon
Four Roses 12

small batch

Weller 12 year 9

special reserve

1792 10

small batch

Maker's Mark 11

cask strength

Buffalo Trace 9

Angel's Envy 14
Scotch
Dewars 9

white label blend

Balvenie 19

14 year

Glenfarclas 11

12 year

Glenfiddich 14

14 year

Macallan 17

12 year doublecask

Ardbeg 16

corryvrecken

Laphroaig 15

triplewood

Highland Park 25

18 year

Auchentoshan 12
Rye
Whistle Pig, old world 20

Woodford Reserve 15

Pinhook 9

Journeyman 12

Redemption 9

High West, double rye 11
Bubbles
Brut 9/41

domaine saint vincent, NM

Brut Rose 15/60

mawby grace, MI
White
Pinot Grigio 10/44

Seaglass, CA '18

White Blend 8/36

Domaine St Lannes Cotes de Gascogne, France '18

White Blend 11

Richvale "one piece revival" pas robles, CA '19 8.5oz can

Sauvignon Blanc 62

Cakebread, CA '18

Gruner Veltliner 48

Zocker, CA '16

Chenin Blanc 27

Vinum, CA '17

Chardonnay 11/50

Joel gott, CA '18

Chardonnay 39

Somona cutrer, CA 17

Chardonnay 9/41

Butternut, CA '16

Dry Reisling 42

Forge cellars classique, NY '16

Gamay Noir 68

Hollyhock lodge no 4, CA '18

Rousanne/Marsanne 57

Alexandria Nicole, WA '17
Rose
Rose Grenache / Mourvedre 7

Richvale "pool party" , paso robles, CA, '19

Rose Sangiovese Barnard Griffin 8/36

Columbia Valley, WA '19

Rose Pinot Noir, Friedman Dichotomy 10/44

Sonoma, CA '18
Red
Pinot Noir 39

Jezebel, OR '18

Pinot Noir 10/45

Block nine, CA '18

Pinot Noir 15/61

Luli, Santa Lucia Highlands, CA '18

Nebbiolo 57

Capperone, pasa robles, CA '15

Red Blend 37

Barnard griffin, WA '17

Cabernet Sauvignon 11/50

Rickshaw, CA '17

Cabernet Sauvignon 89

Antica, CA '15

Gamay Noir 52

Martin Woods, OR '17

Syrah 82

Arno-Roberts, CA '16

Red Blend 63

Cruze monkey jacket, petaluma, CA '17

Zinfandel 8/36

Cline old vine, CA '17

Cab/Merlot/Syrah 10/44

Snoqualmie, whistle stop, columbia valley, WA '16
After Dinner Libations
Taylor Fladgate 9

2011 LBV port Portugal

Quinta Do Noval 10

10 year tawny port, Portugal

Maison Rouge 10

Cognac VSOP, France

St George Spirits 8

Bruto american amaro, CA

Luxardo 8

Amaro abano, Italy

Fernet-Branca 11

Digestivo, Italy

North Shore 15

Sierene absinthe, IL

Bodegas Tradición 18

Palo cortado sherry, Spain

Rare Wine Co. 16

Charleston serial madeira, Portugal

Rare Wine Co. 16

Boston bual madeira, Portugal

Pedro Ximenez 18

20 year px sherry, Spain
$25 minimum order - Thanks for "Finding Us"
Cocktails to Go
2nd Chakra 13

Vera Charles 13
LOCAL FARM PRODUCE BOX 35.00
The produce box will be available for Friday pick up, orders need to be placed by the Sunday before. Please call 847-868-8945 or email events@foundkitchen.com to place your order. Receive an assortment of fresh greens, vegetables & herbs. Boxed for 2 adults or a family of 4 with 2 small children. Includes cooking tips from Chef Debbie Gold.
Heirloom Tomatoes 9 per pound
GENERAL STORE
House Made Jam 16oz 9.95

Made by Debbie of course

McClures Maple Syrup 16oz 13.95

De Cecco Egg Pappardelle 8.8oz 3.75

La Molisana Bucatini 16oz 2.95

Orecchiette (non GMO) 2.2lb 6.95

Sacramento Tomato Juice 46oz 2.75

Califia Farms Almond Milk, Barista Blend 32oz 5.95

Saint Louis Rough Cut Sugar Cubes 2lbs 7.95

Filberts Soda 1.25

Cola, Rootbeer, Lemon Lime, Soda

Tots Treats for Dogs 6.95

Oatmeal, Peanut Butter, Eggs & Bacon (22 count)
CHEESE SELECTION
Chef has chosen this first round of cheeses based on some of her local fav's. If you would like an accoutrement added to your cheese selection just let us know!
LaClare Farms Cave Aged Chandoka 8oz 14.95

Cloth-Bound New Zealand style cheddar pressed from a pasteurized whole milk blend of 70% cow's milk & 30% goat milk. Aged at least 8 months.

Rogue Creamery, Rogue River Valley, Oregon 8oz 17.95

Caveman blue is a rich, complex blue, sweet and fruity with slight vanilla tones and a butter texture. Cows milk

Hooks, Mineral Point, Wisconsin 8oz 10.95

4 year white cheddar wth a nice shard cheddary flavor. Cows milk
Chef Debbie's Famous Cookie Dough
Deb makes the dough in house, rolls it our and freezes it so they are ready to slice and bake at home.
Snickerdoodle Dough 1lb 7.95

Oatmeal Raisin Dough 1lb 8.95

Double Chocolate Chip Dough 1lb 10.95

Chocolate Chip Dough 1lb 9.95
SLAGEL FARMS
Louis John raises incredible animals, his beef & lamb can always be found on our menu. Slagel family farm is located in Fairbury, Il.
Ground Beef 6.25lb

Ground Turkey 6.95lb

Whole Chickens 11.50 each

Farm Eggs 4.95 per dozen

Duck Eggs 11 per dozen
MEATS BY LINZ
This 5th generation family butcher has grown over the years and provides the finest quality beef we have found. All of our beef at The Barn Steakhouse comes from Meats by Linz. They are located just across the Illinois border in Indiana. All beef is finest quality Black Angus heritage beef and all come individually wrapped and cryovaced.
Filet 8oz 17.75

NY Strip Steak 14oz 19.95

Rib Eye 16oz 18.95

Porterhouse 22oz 25.95
CATALPA GROVE
Trent not only raises is own "Heritage" breeds - he delivers weekly himself too. You will NEVER have a moister more flavorful cut of pork! If you've ever had a pork chop at Found you surely know this.
Sliced Bacon 8.75lb

Lamb Chops 1/2 Rack (3 bones) 20.95

Slice Ham 6.95lb

Italian Sausage (6 links) 13.50

Hot Dogs (6 links) 9.95
COFFEE & TEA
We have been using Sparrow since our first year and love this local Chicago roaster!
Steven Smith Tea 12.50 2 dz

Meadow Herbal Infused (Chamomile) - Jasmine Green Sliver Tip (Full Leaf Tea) - Lord Bergamot (Black Tea) - Fez (Full Leaf Green Tea with Spearmint Aromatics) - Peppermint Leaf Herbal Infusion - Moa Feng Shui (Simply Green)

Sparrow Coffee - blended specially for Found Kitchen (ground or bean) 14.95lb

Espresso Marbella Blend (regular or decaf) - Found Dinner Blend Roast Date 3-10-20 (regular or decaf) -
Available Wednesday - Sunday 9am - 1pm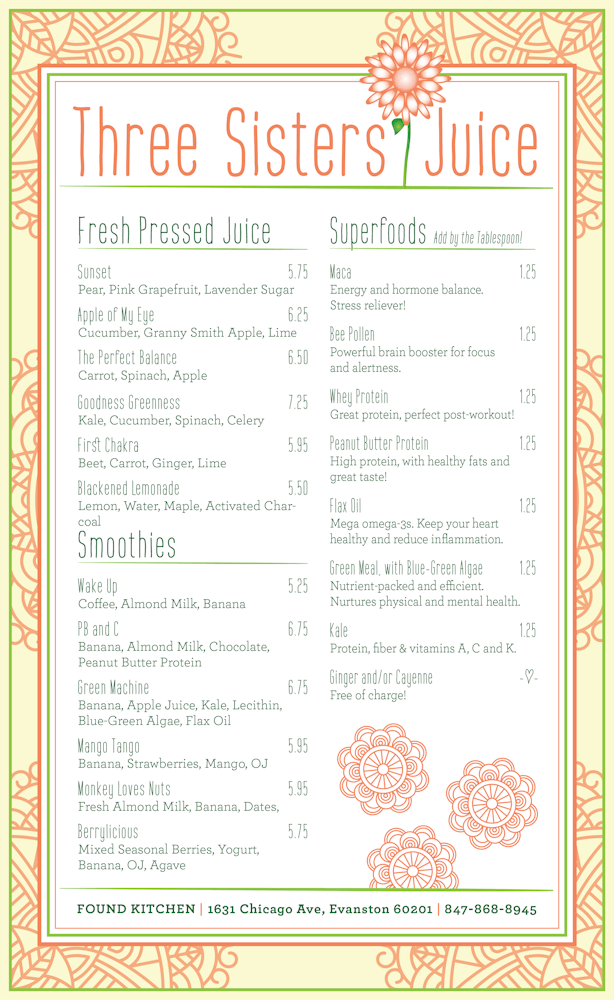 Our seated dinners are served to the center for all to share. Chef creates seasonal menu items based on the freshest ingredients locally available. Below are sample menus for your perusal. Items may change due to seasonal availability. Our Director of Private Events will send you the most up to date menu options closer to your event date.

3 Course Menu: $48 Per Person
3 Small Plates, 2 Entrees, 2 Desserts
Download PDF
First Course (Host Chooses Three)
Parker House Rolls, Stover Butter

Greens and Grains, Arugula, Quinoa, Wheat Berries, Barley, Lentil Sprouts

Shaved Summer Vegetables, Baby Romaine, Mustard Croutons, Caesar Dressing

Panzanella, Heirloom Tomato, Watermelon, Mustard Croutons, Sherry Vinaigrette

Chicken Liver Mousse, Pickled Radish, Crispy Chicken Skin, Seeded Crackers

Smoked Trout, Crispy Potato Cake, Creme Fraiche, Trout Roe

Baby Carrots, Puffed Quinoa, Pistachio Crumble, Carrot Tahini Yogurt
Entrees (Host Chooses Two)
Slagel Farm Steak, Warm Lemon Potato Salad

Crispy Salmon, Charred Spring Leeks, Amaranth, Cultured Cream, Herb Oil

Catalpa Grove Soy Braised Pork Shank, English Peas, Butterscotch Miso

Sweet Corn Polenta, Maitake and Clamshell Mushrooms, Tomato Vinaigrette

Japanese Sweet Potato, Baby Turnips, Cultured Cream

Following Selections Available for Additional Per Person Charge

New York Steak With Farmers Market Treasures of the Day 15
Dessert (Host Chooses Two)
Strawberry Rhubarb Tartlet, Sweetened Cream

Chocolate Mousse, Fresh Summer Berries, Chocolate Crumble

House Made Ice Cream

*Selection of 3 Artisan Cheese, Nuts, Dry Fruit, House Made Fruit Preserves, Toast

*$5 Supplemental Charge for Cheese Selection
Our seated dinners are served in 3 or 4 courses. The host selects a salad & dessert for the party. For groups of 20 or less, the guests can select their entree the day of the event. All other size groups need to supply a final entree count 3 days prior.
Download PDF
$45 Per Person (3 Courses)
Greens and Grains, Arugula, Quinoa, Wheat Berries, Barley, Lentil Sprouts
Shaved Summer Vegetables, Baby Romaine, Mustard Croutons, Caesar Dressing

Sweet Cron Polenta, Maitake, Claimshell Mushrooms, Tomato Vinaigrette
Crispy Salmon, Charred Spring Leeks, Amaranth, Cultured Cream, Herb Oil
Slagel Farm Steak, Warm Lemon Potato Salad


House Made Ice Cream
Chocolate Mousse, Fresh Berries, Chocolate Crumble
$56 Per Person (4 Courses)
Parker House Rolls
Chicken Liver Mousse, Pickled Radish, Crispy Chicken Skin, Seeded Crackers

Greens and Grains, Arugula, Quinoa, Wheat Berries, Barley, Lentil Sprouts
Shaved Summer Vegetables, Baby Romaine, Mustard Croutons, Caesar Dressing

Japanese Sweet Potato, Baby Turnips, Cultured Cream
Trout Chilaquiles, Tortilla, Tomatillo, Pumpkin Seeds, Salsa Verde
Slagel Farm Steak, Warm Lemon Potato Salad

Strawberry Rhubarb Tartlet
Chocolate Mousse, Fresh Summer Berries, Chocolate Crumble
Upgrade
Ribeye Steak 8

New York Steak 10
Add On
Cheese Board, Selection of Three Cheeses, Spiced Nuts, House Jam, Honeycomb, Seeded Crackers 10

Charcuterie Board, Selection of Three Cuts, Quail Egg, Cornichons, Preserved Vegetables, Seeded Cracker 8